[tm_pb_section admin_label="section"][tm_pb_row admin_label="row"][tm_pb_column type="4_4″][tm_pb_text admin_label="Text" text_orientation="left" use_border_color="off" border_color="#ffffff" border_style="solid" text_text_color="#000000″]
Part 1
The Suit Jacket
Many working men today own at least one suit but to decide on making a custom-made suit is not an easy decision. Custom tailoring is always perceived to be a luxury item that are expensive and unnecessary. However, there are many benefits of custom-tailored clothing in comparison to any clothing that you can pull off the rack.
The first and biggest benefit of custom-tailoring is the fit that it gives. Each suit is drafted for you alone which will provide you an insurance that the suit will be on a perfect fit for you and as a result, accentuate your look. Another big benefit of custom tailoring is the freedom to choose the kind of fabric and style you want for your suit. This means, your tailor can provide you with various options that make your suit to uniquely fit you. You do not have to worry that you will bump into someone who would wear the same suit you got from the chain shops.
There are many customization that you can take advantage from custom tailoring and in this article, we are going to speak of the main part of a suit – the Jacket. We will break down each sections of the jacket in which you can customize.
When wearing a suit, your jacket is always made from the same materials that will match your pants. In contrary to this restriction, you can customize most parts of this jacket.
The Style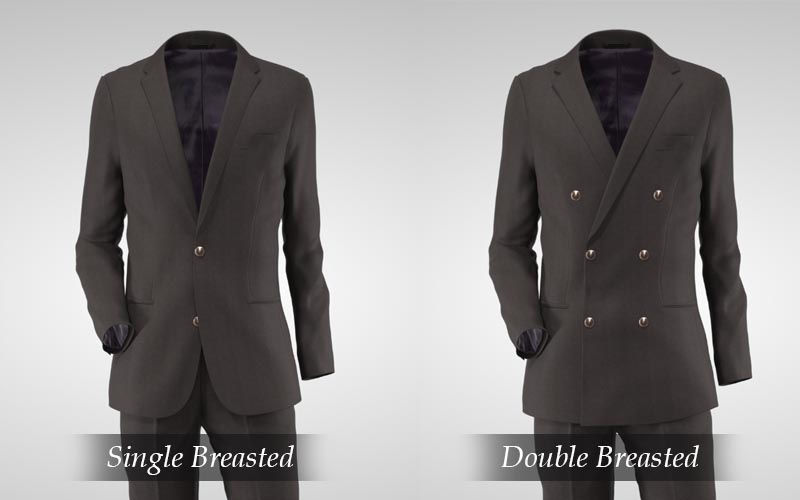 Two most common styles for the jacket are single-breasted and double-breasted jacket. Most of us are familiar with the single-breasted jacket. Single-breasted suit comes with either 1,2, 3, or 4 buttons. Single-breasted suit is very versatile, and you can wear them in most occasions. However, the double-breasted jacket has gained popularity recently. A double-breasted jacket has an overlap front flaps that would go across your body with parallel column of buttons. The most common number of buttons used are 4 but you can also choose 6-button jacket. Unfortunately, it is not easy to wear a double-breasted suit. Although they are stylish, they are not worn in just any events. The fit for double-breasted suit has to be perfect to make it look good. Not everyone can pull this out but if you want to wear this style, you should be absolutely confident and comfortable wearing it.
The Fit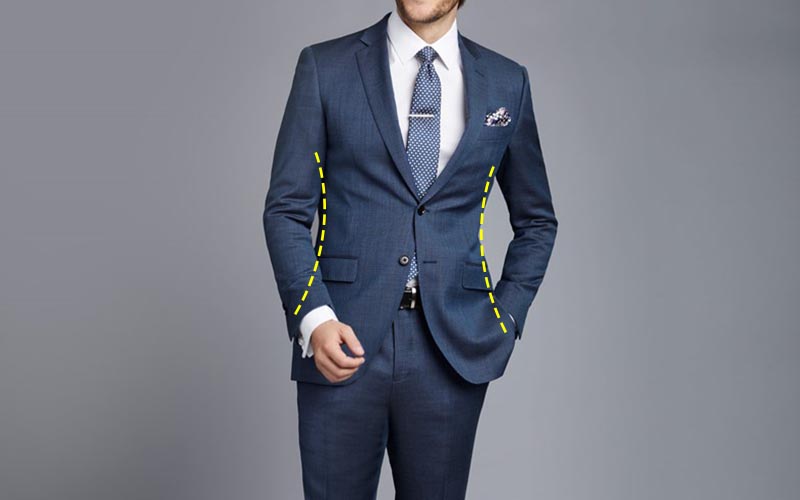 Traditionally, suits are made for regular fit but today, men may prefer the slim fit over the regular fit. While the regular fit is looser on your body, slim fit on the other hand is cut to fit one's body shape and it is normally tighter to accentuate your figure. Whatever you choose, keep your body shape in mind. When in doubt, you should definitely consult your tailor on which one suit you best.
Lapels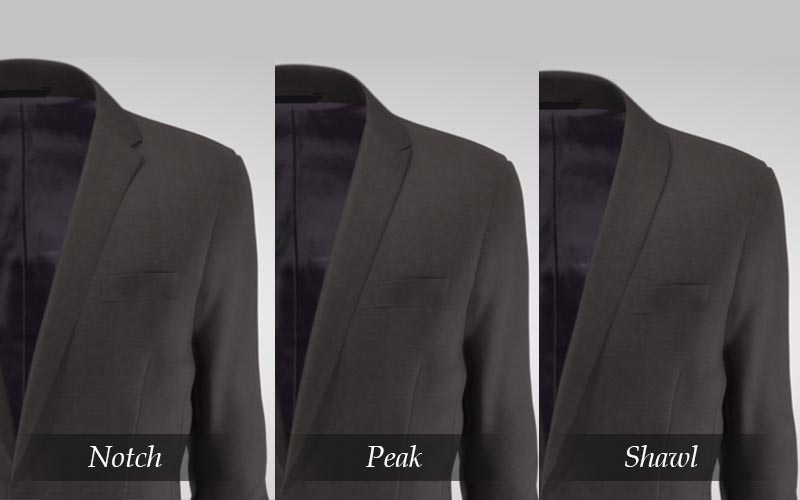 Lapels are the folded collar on the front of your jacket and there are three main types of suit lapels: notched lapel, peak lapel, and shawl lapel. The notched lapel is the most common lapels and they go well with any types of suit and any body types. The peak lapels are usually chosen for a formal suit and double-breasted suit always use this kind of lapels. Peak lapels show the elegance of your attire and helps you to stand out. Shawl lapels are typically reserved for tuxedos and not for an everyday wear. Shawl lapels can be made of different fabric and they are relatively thin in width in comparison to other types of lapels.
Lining
Lining is a thinner layer of cloth that is sewn between the canvas (the inside) of the jacket and the interior jacket. Most suits have lining and the most common fabric for lining is silk. The inner lining adds weight and structure to your jacket. The lining can also give you more protection and comfort while wearing your jacket. However, you can always customize your lining. You can choose to have it fully lined, half lined or no lining at all. Unlined jacket will be lighter and more breathable comparing to the lined jacket. If you want to have lining on your jacket, make sure you color and pattern coordinated with your suit fabric to give a bit of character to your suit.
Conclusion
This time, we have shown you ways to customize your jacket. In the next article we would like to guide you to customize your dress pants, shirt and vest. By customizing every single parts of your suit, you can get the exact type of suit you want. It gives you the freedom to express yourself and show off your character in your attire. With the advantages that custom-tailored suit has to offer, you will be able to always look your best.
[/tm_pb_text][tm_pb_text admin_label="Text" text_orientation="left" text_text_color="#000000″ use_border_color="off" border_color="#ffffff" border_style="solid" custom_padding="5%||5%|"]
Don't forget to Like us on Facebook and Follow us on Instagram for more exciting content.
[/tm_pb_text][/tm_pb_column][/tm_pb_row][/tm_pb_section][tm_pb_section admin_label="Blog Bottom Section" fullwidth="off" specialty="off" transparent_background="on" allow_player_pause="off" inner_shadow="off" parallax="off" parallax_method="off" make_fullwidth="off" use_custom_width="off" width_unit="on" make_equal="off" use_custom_gutter="off"][tm_pb_row admin_label="Row" make_fullwidth="off" use_custom_width="off" use_grid_padding="on" width_unit="on" padding_mobile="off" custom_margin="||5%|" allow_player_pause="off" parallax="off" parallax_method="off" make_equal="off" parallax_1="off" parallax_method_1="off" vertical_alligment_1="start" responsive_laptop_1="inherit" responsive_tablet_1="inherit" responsive_phone_1="inherit" order_laptop_1="1″ order_tablet_1="1″ order_phone_1="1″ column_padding_mobile="on"][tm_pb_column type="4_4″][tm_pb_blog admin_label="Blog" blog_layout="grid" posts_number="2″ show_thumbnail="on" image_size="medium_large" show_content="excerpt" show_more="off" show_author="on" show_date="on" show_categories="on" show_comments="off" show_pagination="off" offset_number="0″ use_overlay="off" use_border_color="off" border_color="#ffffff" border_style="solid" columns="2″] [/tm_pb_blog][tm_pb_divider admin_label="Divider" color="rgba(255,255,255,0)" show_divider="off" height="2″ divider_style="solid"] [/tm_pb_divider][/tm_pb_column][/tm_pb_row][/tm_pb_section]